Technical Information
Our full sound system puts out around 20,000 Watts RMS, comprising of our own designed line array and subs. Power can vary depending on the requirements anything from a single 13amp plug up to the full requirement of 63amp 3 phase. Our power distribution rack provides 9 x 16amp outlets, 3 x 32amp outlets and 2 x UPS backup outlets. All have independent RCBO trip switches for safety. Our lead engineer holds the 17th edition certification for electrical installations.
Amplification is provided by 4 racks of amplifiers totalling 16 channels of varying outputs plus another 4 individual channels for stage monitor mixes.

System processing is handled by 2 x DBX PA2 units that are remotely controlled from the Front of House position to ensure the best crossover, frequency response and limiter points can be set.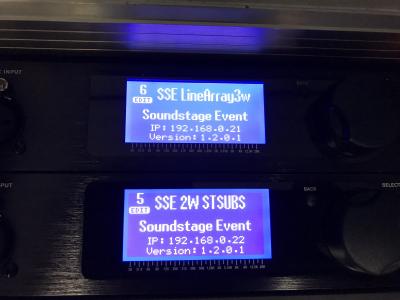 Front of House makes the use of WAVES Soundgrid digital plugin processing to get the very best sound from the system. WAVES is used by many recording artists and concerts throughout the world. The WAVES system comprises of an interface card for the Midas M32 Console, a MAC Mini for the Waves Multirack user interface and a WAVES Soundgrid Server for the high speed number crunching power.
Mixing is provided by 2 x Midas M32 consoles, a Midas M32 at front of house and a Midas M32R on stage for monitor / in ear mixing. The two consoles are linked by a Digital Snake (AES50) and together with a Midas DL16 can provide up to 32 mic inputs, 12 auxiliaries and 16 outputs.

Before any event is started the full system is checked and aligned by our fully trained and certified SMAART engineers. SMAART is the industry standard acoustic measurement software. We use this to phase align the speaker arrays and subs it also is used for measuring the frequency response of the venue so compensation curves can be applied to eliminate any acoustic anomalies within the venue and thereby provide a clean flat response from where we can start the mixing process.

SMAART also continues to monitor the sound during the event to ensure we meet the relevant Health and Safety rules for sound levels and maintain optimum sound quality.
Lighting is DMX controlled on stage but is fed from the Front of House position over Ethernet using ARTNET protocol. Lighting control is provided by Chamsys MagicQ which can control up to 64 DMX universes. All lights are LED based ranging from PAR fixed lighting to moving lights.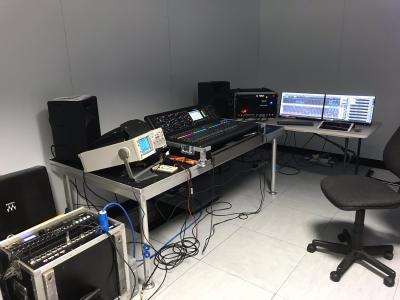 All product names, logos, and brands are property of their respective owners. All company, product and service names used in this website are for identification purposes only. Use of these names, logos, and brands does not imply endorsement.